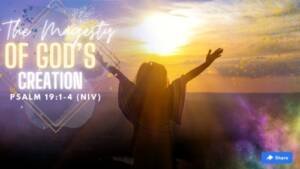 The Majesty of God's Creation
Good Day Child of God, Today's Devotion and Reflection is based on Psalm 19:1-4 (NIV) 
"The heavens declare the glory of God; the skies proclaim the work of his hands. Day after day they pour forth speech; night after night they reveal knowledge. They have no speech, they use no words; no sound is heard from them. Yet their voice goes out into all the earth, their words to the ends of the world."
Moral Story: 
The psalmist marvels at the majesty of God's creation, which silently declares His glory. Nature's beauty and order reveal the handiwork of the Creator, speaking to the hearts of all who behold it.
Short Prayer: 
Creator God, we stand in awe of Your magnificent creation. May it continually draw us closer to You. In Jesus' name, amen.
Affirmation: 
Today, I will take time to appreciate the beauty and order of God's creation, letting it inspire my worship.
Word of Prophecy: 
The Lord says, "In the beauty of My creation, you will find glimpses of My majesty and presence. Draw near and be filled with wonder."
Reflection: 
Take a moment to observe the natural world around you. How does it inspire your faith and worship of God?
Yours In Prophecy, 
Prophet Climate
Join the WhatsApp group and receive powerful daily devotions from Master Prophet Climate. Experience spiritual growth, inspiration, and blessings as you dive into the depths of God's Word. Don't miss out on this opportunity! Click to join and embark on a transformative journey of faith.
Please Click To Receive This Daily Devotion on Your WhatsApp On Your Phone Daily