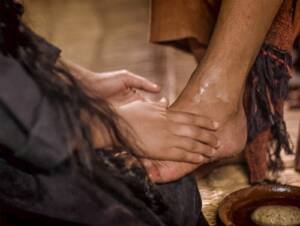 Dear Beloved Kingdom Temple London Family,
Grace and peace be unto you. We are excited to invite you to a Special 'Anointing of Feet' Miracle Service at The Kingdom Temple London on July 13th, 2023. This will be a very extraordinary day of spiritual renewal and transformation as we gather to experience God's power and anointing.
Event Details:
Date: July 14th, 2023
Time: 11:30 AM & 3:30 PM
Location: The Kingdom Temple London, 93 Camberwell Station Road, London SE5 9JJ
During this remarkable Service, our Prophet, Bishop Climate, will lead us in anointing our feet with oil. The power of the anointing signifies cleansing, healing, empowerment, and divine favour. As we come together as a community of believers, we invite you to experience the following blessings through the anointing of feet:
5 Benefits of Anointing Your Feet:
1. Spiritual Cleansing: Recall the humility and purification exemplified by Jesus washing His disciples' feet (John 13:5-10). The anointing ritual similarly symbolises spiritual cleansing and consecration.
2. Physical Healing: As seen in James 5:14-15, anointing with oil is associated with healing. Experience restoration and wellness for your physical body.
3. Spiritual Empowerment: The anointing empowers you to walk in righteousness and strengthen your connection with God, fostering spiritual growth.
4. Breaking Bondages: Anointing breaks chains of past hurts, habits, and addictions, ushering in newfound freedom and liberation.
5. Divine Favour: The anointing attracts God's favour, aligning you with His divine plan and purpose.
Scriptural Foundations:
– Exodus 30:30: "And thou shalt anoint Aaron and his sons, and consecrate them, that they may minister unto me in the priest's office."
– Mark 6:13: "And they cast out many devils, and anointed with oil many that were sick, and healed them."
– Psalm 23:5: "Thou preparest a table before me in the presence of mine enemies: thou anointest my head with oil; my cup runneth over."
Beloved, we encourage you to mark this date on your calendar and prepare your hearts for an incredible encounter with the Holy Spirit. Invite your friends and family to join us, as this is an opportunity to witness miracles, experience breakthroughs, and encounter God's transforming touch.
Let us come together in faith and unity, anticipating a powerful move of God. May this service be a time of profound spiritual growth and revelation. We look forward to having you with us at The Kingdom Temple London on July 13th at 11:30 AM and 3:30 PM.
Join us for services here at
The Kingdom Church
93 Camberwell Station Road
London SE5 9JJ
In His love and grace,
Dr Wiseman
The Kingdom Temple London