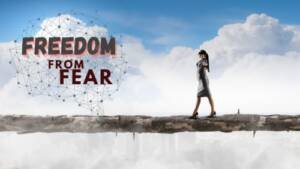 Dear Child of God,
My name is Rachel, and I want to share a powerful testimony of how I was delivered from a spirit of fear and anxiety that had plagued me for years.
For as long as I can remember, I struggled with overwhelming fear and anxiety. Simple tasks felt like insurmountable challenges, and social situations caused me extreme discomfort. The fear of the unknown and the constant worry about what could go wrong paralysed me in many aspects of life.
One day, a friend invited me to attend a special Fear-Breaking Conference at The Kingdom Church. Despite my reservations, I knew I had to do something about my crippling fear, so I decided to give it a chance.
As I entered the church for the conference, I felt a mix of anticipation and nervousness. The atmosphere was filled with hope and expectation as people from all walks of life gathered to seek freedom from their fears.
During the conference, Bishop Master Prophet Climate shared powerful insights on overcoming fear and trusting in God's promises. The teachings resonated deep within my heart, and I felt a glimmer of hope that change was possible.
There was a moment of powerful prayer and deliverance, where we were encouraged to confront our fears and lay them at the feet of God. As I prayed with tears streaming down my face, I felt a weight lifting off my shoulders. It was as if God was wrapping me in His arms, assuring me that He would be with me every step of the way.
In the days and weeks that followed, I noticed a remarkable transformation within myself. I started to face situations that used to terrify me with newfound courage and resilience. The constant anxiety that had once plagued me began to subside, replaced by a sense of peace and trust in God's protection.
Through this experience, I learned to lean on God and His promises, and I discovered the strength that comes from surrendering my fears to Him. My faith grew, and I realised that I no longer needed to be a prisoner of fear.
This experience became a powerful testimony in my life, highlighting the importance of seeking divine intervention to overcome our struggles. The Fear-Breaking Conference at The Kingdom Church played a pivotal role in guiding me towards a life free from fear and anxiety.
This testimony serves as a reminder that when we confront our fears and trust in God's love and protection, He can break the chains that bind us and lead us towards a life of courage and peace. I am grateful for the deliverance I experienced and for the newfound freedom to live my life without fear. It is a testament to the miraculous power of God and the transformation that occurs when we place our trust in Him.
CLICK HERE TO ORDER
BRINGING DOWN GOLIATH: THE SPIRIT OF FEAR 
Bringing Down the Goliath Spirit (Deliverance Series Vol. 18) (EBOOK)
OR CALL US 24/7 TO ORDER +44 207 738 3668 (UK) +1 347 708 1449 (USA)
Now Here's What I Need You To Do: 
I need you to write all the things in your life which have been bothering you; all the things you want God to purge from your life. These could be negative letters, debts, names of people who have purposely set themselves against you, or any other thing that is opposing you and bring them to be thrown into the fire. 
COME EXPECTING A GREAT MOVE OF GOD IN YOUR LIFE!  
I look forward to seeing you soon,
MEGA TKC Miracles House,
93 Camberwell Station 
Road Se5 9JJ 
Tel: +44 207 738 3668/3476
Yours In Prophecy 
Prophet Climate
Yours In Prophecy 
Prophet Climate