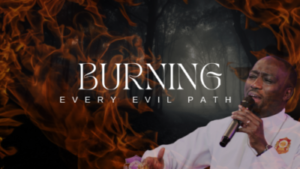 Dear Child of God,
Read This Powerful Testimony How One Man Trusted God To Avenge Him
To God be the glory, one of the most important things I want to share with you is, your time has come, for you to walk a new life. New life means new favour, new blessing, new breakthrough, actually with some new powerful connections in your life. I just want to share with you a powerful testimony. 
One gentleman who had been facing relentless frustration and torment from an evil neighbour. This troublesome individual had caused significant damage to their property, scratching their car, smashing it with a hammer, and even breaking the front windscreen. Seeking help, they turned to the authorities, but the police, unfortunately, were unable to offer any real assistance, advising them to claim insurance for the damages.
Believing God instead, the man travelled all the way to London to participate in the Miracle Fire Service. During the service, he submitted his fire prayer request, writing down the name of his neighbours who had been causing him so much grief. As he handed his prayer request to the Prophet, he watched with his own eyes as it was thrown into the flames; feeling a sense of relief and peace washing over him. He believed that God was able to bring justice and resolution.
Remarkably, within a week after the fire service, the man received surprising news. His troublesome neighbours, who had been the source of so much distress, were forcefully evicted from their house. Furthermore, the main instigator of the torment was arrested for his actions, putting an end to their reign of mischief.
This transformative experience serves as a powerful testimony of the importance of seeking divine help, protection and vengeance through prayer. By attending the prophetic fire service and entrusting his troubles to God, he witnessed the miraculous impact of faith and surrender. It was a reminder that when he relied on a higher power, justice prevailed in ways he could never have imagined.
Child of God, you have heard the testimony from above. It's now going over 10 years since we started the fire service and every time it has never failed to deliver results. But this time I hear in my spirit, it is your season and it is your time. And as I speak to you right now, as I was praying for you, God is revealing to me that the reason why you have been experiencing a lot of challenges, disappointments, delays and stumbling blocks in your life, is because somebody has bewitched you to walk in the path of evil people and evil things. 
When you are walking in the path of evil people, these are some of the signs that you will encounter:
Experiencing a lot of issues in your life. One issue after another. If it's not finances, you having issues within your family, if not family its health, relationships, etc. 

Experiencing delays where things are taking longer than they should be

Experiencing bad luck and misfortune 

Everybody that you meet in your life wants only to take from you, use you and abandon you. 
When I was praying for you, the Lord revealed to me other things that you are aware of and nobody knows about. As I was praying, the angel of the Lord spoke to me that we have to do something quickly before the 31st of this month. Because the person that has been doing this is planning to extend your problem for the next 6 months; for the next 6 years. 
That is why we have to do something. The spirit of God revealed to me that in the next 48 hours, I must make a special prayer for you here in the sanctuary in London. 
And as I pray for you, God is going to take you, and the angel of the Lord is going to uproot you and remove you from that path of evil people and put you in a path that no sorcerer, no witch, no failure, no sickness, no rejection has ever seen. 
Now Here's What I Need You To Do: 
1. Using the prayer agreement form below, I need you to write 7 key areas in your life where you have been experiencing all these challenges that I listed above. Then I need you to take a string and tie 7 knots in it. Send me a picture of that string and those 7 key areas that you want God to deliver you from. 
2. I need you to build up an altar for a new beginning in your life according to the number 8 of £80. Remember the number 8 represents new beginnings. 
3. Once I receive your prayer request, the picture of that string with 7 knots and your special offering for a new beginning, I'm going to prepare your prayer request to be thrown in the fire. As it burns, whatsoever you have experienced for the last 7 months; whatsoever has tied you up, according to those 7 knots, as it burns you are going to be released.
4. Join Me This Friday @7PM UK Time LIVE Online via Youtube/Facebook or In Person
Child of God, it's very important that I receive your prayer request, picture and special offering before the end of this month. We must act first before they renew your problems. 
SUBMIT YOUR PRAYER AGREEMENT FORM  
CALL US 24/7 +44 207 738 3668 (UK) +1 347 708 1449 (USA)
Remember you can give with your card through the phone it's quicker and safer; the prayer warriors can assist you to write down your prayer request. Or you can ask them to write the prayer of agreement form on your behalf; just call any of the numbers on the prayer agreement form. You can also bring it and put it in my hand for the sake of a special anointing. I would love to pray with you personally and release the power of God in your life. If you would like to see me personally please call our office appointment. But if you need a quick prayer then just pop in anytime, we are here to serve you. Every Sunday Morning at 10:30AM – No Appointment needed. You can also sow straight into the Ministries account through online banking or by visiting your nearest LLOYDS BANK
ACCOUNT NAME: Bishop Climate Ministries
BANK : LLOYDS BANK 
SORT CODE: 30-91-91
 ACCOUNT: 32472768
IBAN: GB24LOYD30919132472768
BIC: LOYDGB21456
OR YOU CAN SEND THROUGH MONEY GRAM TO:
Please note if you are sending your special Offering via Money Gram or Western Union the name has been changed to Jennifer Wiseman, 93 Camberwell Station Road, London, SE5 9JJ, UK
(This is my secretary. Due to my schedule; she will collect your donation on my behalf)
Your angels are waiting here @ 7:00PM
This Friday 9th June 2023
At
The Kingdom Church,
93 Camberwell Station Road,
London, SE5 9JJ
Yours In Prophecy 
Prophet Climate