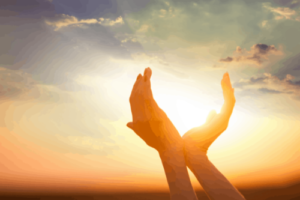 Dear Child of God,
I want you to read a powerful testimony that we received from one of our new members in the ministry. It was a very emotional experience to witness and see first hand what the power of God can do. As you read this testimony, I want to encourage you that the same healing power of God is available for you, to touch you wherever you are, and to begin to heal any situation you might be facing today!
Testimony of Healing: Triumph over Lupus through the Power of Prayer
When Deena first came to me, burdened by the relentless pain and suffering of this debilitating disease, I saw in her eyes a glimmer of hope amidst the darkness. With fervent prayers and unwavering faith, I called upon the divine intervention of our loving Creator, beseeching Him to touch Deena's life with His miraculous healing.
As I extended my hands towards Deena, I could feel the presence of the Holy Spirit filling the room. The divine energy flowed through me, embracing her with a warmth that can only be described as the embrace of God's love. Together, we lifted our voices in prayer, surrendering her condition to the Almighty and trusting in His infinite wisdom.
In the days that followed, we witnessed the hand of God at work. The pain that had plagued Deena for so long gradually receded, and a newfound strength began to fill her weary body. Where once there was exhaustion, there emerged a renewed energy, and the heavy burden of lupus began to lift.
Medical tests, conducted with both hope and anticipation, brought forth the confirmation we had been praying for. The disease that had gripped Deena's life was no more. It was a testament to the power of our faith and the compassion of our Heavenly Father, who, in His infinite grace, saw fit to heal and restore.
Today, Deena stands as a living testament to the miracles that can unfold when we put our trust in God's unfailing love. Her journey from pain to healing serves as a beacon of hope for all those battling illness and seeking solace in their darkest moments. It is a reminder that with faith, prayer, and an unwavering belief in God's power, all things are possible.
Let Deena's testimony be a source of inspiration and encouragement to each one of you. In your own struggles, know that there is a God who hears your prayers, a God who is ready to pour out His blessings and bring forth healing in your lives.
I extend my heartfelt gratitude to our Heavenly Father for His boundless mercy and grace, and to Deena, for allowing us to be part of her miraculous journey. May her story ignite the flames of faith within each of us and remind us of the transformative power that lies in the power of prayer. 
Dear Child of God, This is our Miracle Healing Deliverance Service here at The Kingdom Church London. I want to invite you to join me so you can experience the same healing and restoring power you just read about above. 
During this powerful service, you will experience the anointing and transformative power of God right from the comfort of your own home. Whether you are seeking physical healing, emotional restoration, or deliverance from spiritual bondage, this online gathering is an opportunity for you to encounter God's healing touch.
Here's What You Can Expect From Our Healing and Deliverance Service:
Dynamic Worship: Our anointed worship team will lead us into a powerful atmosphere of praise and worship, creating a sacred space for the Holy Spirit to move mightily in our midst. Prepare your heart to enter into a place of intimate connection with God.
Inspiring Teaching: Prophet Climate will share inspiring messages rooted in the Word of God, bringing you encouragement, biblical insights, and practical wisdom for your healing and deliverance journey. You will receive empowering guidance that can be applied to your everyday life.
Prayer for Healing and Deliverance: Our dedicated prayer team will be available during the service to intercede on your behalf. Whether you are facing physical ailments, emotional wounds, or spiritual battles, they will stand with you in faith, believing for God's supernatural intervention and breakthrough. All you need to do is call our 24/7 Prayer Line on the numbers below.
Testimonies of Miracles: You will be uplifted and encouraged by powerful testimonies of lives transformed through the healing and delivering power of God. These testimonies serve as a reminder that God is still performing miracles today and that breakthrough is possible for you too.
Please feel free to invite your friends, family, and loved ones to join us as well. Share this invitation with those who are in need of healing, restoration, and deliverance. Together, let's come expectant, knowing that our God is faithful to touch, heal, and set us free.
Join Us Live In Person Or Online This Friday at 7PM UK Time, via Youtube or Facebook, or of course here at church at 93 Camberwell Station Road, London, SE5 9JJ. 
We look forward to having you join us as we experience the miraculous healing and deliverance power of our Lord Jesus Christ. May your life be forever transformed by His love and power!
You can also bring it and put it in my hand for the sake of a special anointing. I would love to pray with you personally and release the power of God in your life. If you would like to see me personally please call our office appointment. But if you need a quick prayer then just pop in anytime, we are here to serve you. Every Sunday Morning at 10:30AM – No Appointment needed.
Your angels are waiting here @ 7:00PM
This Friday 9th June 2023
At
The Kingdom Church,
93 Camberwell Station Road,
London, SE5 9JJ
Yours In Prophecy 
Prophet Climate