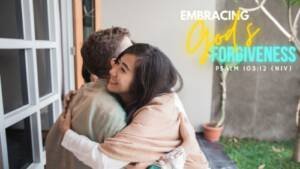 Good Day Child of God,
Today's Devotion and Reflection is based on the Scripture: Psalm 103:12 (NIV)
"As far as the east is from the west, so far has he removed our transgressions from us."
Moral Story: 
One of the greatest gifts God offers us is the gift of forgiveness. The psalmist reminds us that when God forgives, He removes our sins as far as the east is from the west. Through the sacrifice of Jesus Christ, our sins are washed away, and we are reconciled with God. Embracing God's forgiveness means acknowledging our need for His mercy, repenting of our wrongdoing, and receiving His grace with a grateful heart.
Short Prayer: 
Dear Lord, I thank You for the gift of Your forgiveness. Help me to fully embrace and receive Your mercy. Show me areas where I need to repent and restore me to a right relationship with You. Fill me with gratitude for Your grace and mercy. In Jesus' name, amen.
Affirmation: 
Today, I embrace God's forgiveness. I acknowledge my need for His mercy and repent of my wrongdoing. I am grateful for His grace that washes away my sins and restores me to a right relationship with Him. I am forgiven and free.
Word of Prophecy: 
I prophecy to you that as you embrace God's forgiveness, you will experience the freedom and peace that comes from being reconciled with Him. His love and grace will transform your life, and you will walk in the fullness of His forgiveness. You are a new creation in Christ.
Reflection: 
Reflect on areas in your life where you may be harbouring guilt or shame. Are there areas where you need to embrace God's forgiveness and receive His grace? Take a moment to confess your sins to Him and receive His mercy. Allow His forgiveness to bring freedom and restoration to your heart and soul.
Yours In Prophecy, 
Prophet Climate
Join the WhatsApp group and receive powerful daily devotions from Master Prophet Climate. Experience spiritual growth, inspiration, and blessings as you dive into the depths of God's Word. Don't miss out on this opportunity! Click to join and embark on a transformative journey of faith.
Please Click To Receive This Daily Devotion on Your WhatsApp On Your Phone Daily