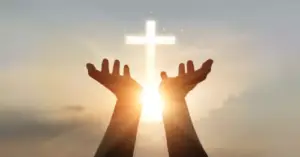 Good Day Child of God,
Today's Devotion and Reflection is based on the Scripture: Jeremiah 29:11 (NIV)
"For I know the plans I have for you," declares the Lord, "plans to prosper you and not to harm you, plans to give you hope and a future."
Short Prayer:
Gracious Father, thank you for the assurance that you have plans to prosper me, give me hope, and provide a bright future. Help me to trust in your divine plans and purposes, even when circumstances may seem uncertain. I place my hope and confidence in you, knowing that you hold my future in your hands. In Jesus' name, amen.
Reflection:
Reflect on God's promise to have plans for your prosperity, hope, and a future. Regardless of the challenges you may face, trust that God's plans for your life are good and filled with hope. Embrace His guidance and provision, knowing that He is faithful to lead you into a future that aligns with His purposes.
Affirmation:
"God holds my future, and His plans for me are filled with prosperity and hope. I trust in His faithful guidance and provision."
Prayer Points:
1. Thank God for His plans to prosper you, give you hope, and provide a future.
2. Pray for the faith to trust in God's guidance, even when circumstances may be uncertain or challenging.
3. Ask God to reveal His plans and purposes for your life, that you may align your desires and goals with His will.
4. Pray for divine opportunities and open doors that lead you closer to the future God has prepared for you.
5. Seek His wisdom and discernment in making decisions, surrendering your plans and seeking His direction in all things.
We encourage you to support and contribute to the publishing of devotionals or other resources that have positively impacted your spiritual journey. These resources play a vital role in spreading the message of God's love, grace, and favoUr to a broader audience.
If you have been blessed by these devotionals and would like to support their publishing, we invite you to consider making a contribution to the ministry responsible for their creation. Your support can help ensure that these uplifting and faith-building resources continue to reach and bless more individuals around the world.
To learn more about how you can support and contribute to the publishing of these devotionals, please visit the following website: [https://prophetclimate.co.uk/donations/247/](https://prophetclimate.co.uk/donations/247/).
Yours In Prophecy, 
Prophet Climate
Join the WhatsApp group and receive powerful daily devotions from Master Prophet Climate. Experience spiritual growth, inspiration, and blessings as you dive into the depths of God's Word. Don't miss out on this opportunity! Click to join and embark on a transformative journey of faith.
Please Click To Receive This Daily Devotion on Your WhatsApp On Your Phone Daily