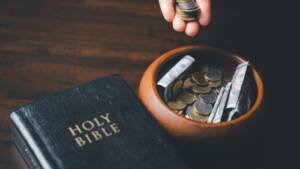 Dear beloved members of The Kingdom Church,
As we approach the upcoming service, we want to encourage each one of you to extend a warm invitation to your friends, family, and acquaintances. This service presents a wonderful opportunity for them to not only understand more about God and finances but also to experience the transformative power of faithful tithing.
When we gather together in worship and unity, the presence of God is magnified, and miracles happen. As you invite your loved ones to join us, remind them that God desires to bless them abundantly. Encourage them to open their hearts to His teachings and embrace the act of tithing as an act of faith and obedience.
As they attend the service and learn from the teachings of our master prophet, they will be equipped with valuable insights on how to manage their finances according to God's principles. They will discover the joy and freedom that come from putting God first in their finances and trusting in His provision.
Now, let us share a powerful testimony of a sister in our congregation who experienced God's blessings through faithful tithing:
Testimony of Sister Sarah:
Sister Sarah had been attending The Kingdom Church for quite some time, but she had never fully embraced the practice of tithing. She was skeptical about its impact on her finances and felt apprehensive about committing to give a portion of her income.
However, one day, during a powerful sermon on tithing by our master prophet, something stirred within Sarah's heart. She decided to take a step of faith and began tithing faithfully, trusting God's promises in Malachi 3:10.
As the months passed, Sarah witnessed remarkable changes in her financial situation. She noticed that she was no longer experiencing the same financial losses and setbacks that plagued her before. Instead, God's favour seemed to follow her wherever she went.
Sarah's income began to grow steadily, and she received unexpected financial blessings from various sources. The anxiety she once felt about her finances was replaced with a deep sense of peace and confidence in God's provision.
As Sarah continued to tithe faithfully, she started to apply the financial principles she learned from the master prophet's teachings. She became a wise steward of her resources, budgeting diligently and sowing seeds of generosity whenever possible.
Today, Sarah's life is a living testimony to the transformative power of tithing and God's faithfulness. She is more blessed than ever before, not just financially but also spiritually and emotionally. Her decision to trust in God with her finances has brought her a sense of fulfilment and purpose she had never experienced before.
Conclusion:
Dear members, as we approach this special service, let us remember the impact that faithful tithing can have on our lives. It is not just a financial transaction; it is an act of faith and obedience that opens the floodgates of God's blessings.
As you invite your friends to join us, encourage them with the testimony of Sister Sarah and the promises of God in His Word. Let them know that as they take a step of faith and honour God with their tithe, breakthroughs and blessings await them.
We look forward to welcoming your friends and loved ones to this transformative service, where we can all grow together in understanding God's principles for our finances and experience His abundant blessings.
May God's grace and favour be upon you all as you continue to walk in faith and obedience.
THIS SUNDAY … Experience Divine Guidance with Master Prophet Climate!
Join us this Sunday at The Kingdom Church as we discover the ever-present guidance of God, His consistent presence in our lives, navigating life's wilderness, trusting God's timing, and the faith journey.
*You are invited to join us for 4 Spirit Filling services:*
*9am to 10am *– P.U.S.H Prayer Miracle Service
*10:30am* Prophetic Hour – Come & See The Prophet One To One
*11:30am* – The Family Word Service "Guided By The Unseen: Trusting Gods Direction"
*3:30pm* – SUPER SUNDAY Miracle Service "RELEASING SPECIAL PROPHECIES
We encourage you to extend this invitation to your friends and family. This Sunday's services hold special blessings and an enriching experience for everyone. Let them, too, experience the transformative power of God's word and feel His divine guidance in their lives.
We look forward to welcoming you and your loved ones to The Kingdom Church this Sunday.
See you soon, 
MEGA TKC Miracles House,
93 Camberwell Station 
Road Se5 9JJ 
Tel: +44 207 738 3668/3476
Blessings,
Master Prophet
The Leadership Team of The Kingdom Church`