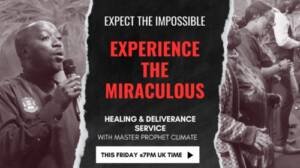 Dear Child of God,
I stand before you today to share a testimony that has profoundly altered the course of my life—a story of unwavering faith, unrelenting suffering, and the miraculous touch of divine healing.
For five long years, I found myself ensnared in the clutches of an affliction that seemed insurmountable—a relentless and unexplained bleeding that drained not only my strength but also my hope. Each day, each drop, was a constant reminder of my pain and vulnerability. The burden of this affliction weighed heavily on my spirit, and I embarked on an arduous quest for relief.
I sought answers in countless hospitals, underwent numerous medical tests, and consulted with specialists from all corners of the medical field. Yet, despite their expertise and efforts, the source of my suffering remained elusive. It was a harrowing journey of despair, with no end in sight.
But amidst the darkness that shrouded my life, a glimmer of hope emerged. It was a divine nudge that led me to The Kingdom Temple—a sanctuary of faith and healing. It was during a Friday Healing & Deliverance Service that I would come face to face with the power of God's grace, channeled through the anointed ministry of Prophet Climate and his team of ministers.
As I stepped into The Kingdom Temple, a profound sense of peace enveloped me—a reassurance that I was in the right place at the right time. The service commenced, and the atmosphere was charged with the fervent prayers of the congregation. Master Prophet Climate, guided by divine wisdom, began to speak prophetic words that resonated deep within my soul.
During the deliverance prayer, I felt a surge of energy, as if the very essence of my being was being cleansed and renewed. The prophet and his team of ministers prayed over me with an intensity that I had never before experienced. It was a moment of surrender, as I released the weight of my affliction into the hands of the Almighty.
And then, it happened—a profound and miraculous shift that defies human explanation. The bleeding that had tormented me for half a decade ceased completely. It was as if the heavens had opened, and God's mercy had poured forth to cleanse and restore me.
Tears of gratitude flowed freely from my eyes as I realised that I had been touched by the hand of the Divine. My healing was not just a physical restoration but a spiritual awakening—a testament to the boundless power of faith and the unwavering commitment of divine intervention.
Today, I stand before you as a living testimony of God's grace and the transformative ministry of Prophet Climate and The Kingdom Temple. My life has been forever changed, and I am filled with a renewed sense of purpose and gratitude.
To those who may be facing their own trials and tribulations, I extend an invitation—a call to come to The Kingdom Temple, to partake in the Friday Healing & Deliverance Service, and to experience the life-changing power of God. Just as I found healing and restoration, so too can you find solace, hope, and divine intervention.
YOUR DIVINE APPOINTMENT AWAITS: JOIN US FOR AN UNFORGETTABLE SERVICE
I am writing to extend a heartfelt invitation to you—a call to join us at The Kingdom Temple for an extraordinary Friday Healing & Deliverance Service. As you prepare to step into this sacred space, I want to share what you can expect during this life-changing encounter:
1. Praise & Worship in the Presence of God: Our service begins with a powerful session of praise and worship—a time to lift our voices and hearts in adoration of the Almighty. It's a moment when you can immerse yourself in the divine presence, feeling the love and grace of God surrounding you.
2. Powerful Teaching of the Word of God: Prepare to receive profound insights and revelations from the Word of God. Our dedicated ministers will guide you through teachings that will deepen your understanding of His divine plan and purpose for your life. The Word will illuminate your path and inspire your faith. 
3. Powerful Healing & Deliverance Prayers: The heart of our service lies in the healing and deliverance prayers. Led by Master Prophet Climate and his team of ministers, these prayers are a potent force against afflictions and burdens that may be weighing you down. Whether you seek physical, emotional, or spiritual healing, expect to experience the transformative power of God's mercy.
4. Divine Prophecy: During the service, you may have the opportunity to receive a divine prophecy—a personalised message from the heart of God, spoken through His chosen vessel. These prophecies have the potential to provide guidance, clarity, and a sense of purpose that you may have been seeking.
Beloved, as you prepare to join us, open your heart to the possibilities that await. This service is not just an event; it's a divine appointment—a moment where the miraculous can become a reality, where burdens can be lifted, and where hope can be rekindled.
No matter your circumstances or the challenges you may be facing, know that you are not alone. Join us at The Kingdom Temple, and let the collective faith and prayers of our congregation surround you. Together, we will seek the face of God, trusting in His boundless love and His ability to heal and deliver.
Your Prayer Requests Matter: Share Your Needs for Healing & Deliverance
If you're unable to attend in person, remember that distance is no barrier to God's power. You can also join us online to experience the service from the comfort of your own space. We look forward to seeing you shortly.
Join us for services here at
The Kingdom Church
93 Camberwell Station Road
London SE5 9JJ
Everyone is welcome to attend, so feel free to invite your friends and family. If you require further information, you can reach us at: +44 20 7738 3668.
As we gather to pray and worship, let's prepare our hearts to receive from God, trusting that as our prayers ascend like incense to the Throne of His Grace. We look forward to seeing you soon.
Yours In Prophecy, 
Prophet Climate
The Kingdom Church, London
REMEMBER THAT OUR PRAYER WARRIORS AND I WILL BE PRAYING FOR YOU RIGHT NOW.