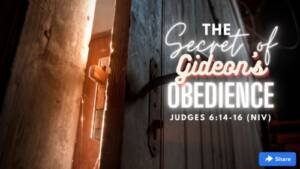 Good Day Child of God,
Today's Devotion and Reflection is based on the Scripture: Judges 6:14-16 (NIV)
"The Lord turned to him and said, 'Go in the strength you have and save Israel out of Midian's hand. Am I not sending you?' 'Pardon me, my lord,' Gideon replied, 'but how can I save Israel? My clan is the weakest in Manasseh, and I am the least in my family.' The Lord answered, 'I will be with you, and you will strike down all the Midianites, leaving none alive.'"
Moral Story: 
Gideon's story reminds us that God can use the least likely individuals to achieve His purposes. Despite Gideon's doubts about his abilities, his obedience to God's call led to a significant victory. This story teaches us the power of trusting God's strength over our own limitations.
Short Prayer: 
Dear Lord, help us to overcome self-doubt and trust in Your strength. May we be willing to obey Your call, knowing that You are with us and will empower us for the task. In Jesus' name, amen.
Affirmation: 
Today, I choose to trust in God's strength over my limitations. I will obey His call, knowing that He equips and empowers me for the tasks He sets before me.
Word of Prophecy: 
I prophesy that as you step out in obedience to God's call, He will empower you beyond your own abilities. Just as He was with Gideon, He will be with you, and you will experience victories that exceed your expectations.
Reflection: 
Reflect on areas in your life where self-doubt might be holding you back from obeying God's call. Are there tasks or responsibilities you feel inadequate for? Trust in God's strength and His promise to be with you.
May this devotion inspire you to trust in God's strength, overcome self-doubt, and step out in obedience to His call.
Yours In Prophecy, 
Prophet Climate
Join the WhatsApp group and receive powerful daily devotions from Master Prophet Climate. Experience spiritual growth, inspiration, and blessings as you dive into the depths of God's Word. Don't miss out on this opportunity! Click to join and embark on a transformative journey of faith.
Please Click To Receive This Daily Devotion on Your WhatsApp On Your Phone Daily