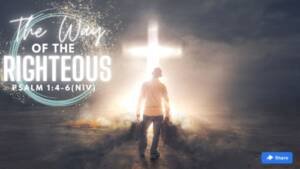 The Way of the Righteous and the Way of the Wicked
Good Day Child of God, Today's Devotion and Reflection is based on Psalm 1:4-6 (NIV)
 "Not so the wicked! They are like chaff that the wind blows away. Therefore the wicked will not stand in the judgement, nor sinners in the assembly of the righteous. For the Lord watches over the way of the righteous, but the way of the wicked leads to destruction."
Moral Story: 
This psalm contrasts the destiny of the righteous and the wicked. While the righteous are like sturdy trees, the wicked are like chaff, easily blown away by life's trials. God watches over the righteous and guides them, but the way of the wicked leads to destruction.
Short Prayer: 
Lord, help us walk in righteousness and avoid the path of the wicked. Keep us under Your watchful care. In Jesus' name, amen.
Affirmation: 
Today, I choose the path of righteousness and trust in God's protection and guidance.
Word of Prophecy: 
The Lord declares, "Those who walk in righteousness will find My favour and protection. Trust in My guidance, and you will avoid destruction."
Reflection: 
Reflect on your choices and actions. Are they leading you toward righteousness and God's protection, or away from it?
Yours In Prophecy, 
Prophet Climate
Join the WhatsApp group and receive powerful daily devotions from Master Prophet Climate. Experience spiritual growth, inspiration, and blessings as you dive into the depths of God's Word. Don't miss out on this opportunity! Click to join and embark on a transformative journey of faith.
Please Click To Receive This Daily Devotion on Your WhatsApp On Your Phone Daily