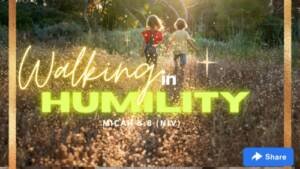 Good Day Child of God,
Today's Devotion and Reflection is based on the Scripture: Micah 6:8 (NIV)
"He has shown you, O mortal, what is good. And what does the Lord require of you? To act justly and to love mercy and to walk humbly with your God."
Moral Story: 
The prophet Micah conveys God's requirements for His people: to act justly, love mercy, and walk humbly with Him. Walking in humility means acknowledging our dependence on God, recognising His sovereignty, and living in submission to His will. It is an attitude of meekness, gentleness, and a willingness to serve others.
Short Prayer: 
Dear Lord, teach me to walk in humility. Help me to recognise my dependence on You and submit to Your will. Fill me with meekness and gentleness. Show me how to act justly, love mercy, and walk humbly with You. In Jesus' name, amen.
Affirmation: 
Today, I choose to walk in humility. I acknowledge my dependence on God and submit to His will. I embrace meekness and gentleness, and I serve others with love and compassion. I act justly, love mercy, and walk humbly with my God.
Word of Prophecy: 
I prophesy to you that as you walk in humility, God will exalt you. He will use your meekness and gentleness to impact the lives of others. Your humility will be a testimony of His grace and love, and He will guide your steps in His wisdom.
Reflection: 
Reflect on your attitude of humility. Are there areas in your life where you can grow in meekness and gentleness? Take a moment to surrender any pride or self-centeredness to God, and ask Him to cultivate humility within you. Trust that as you walk humbly with Him, He will lead you in paths of righteousness.
**Support our Daily Devotions**: We invite you to support our daily devotions by partnering with us at [link to partnership page]. Your partnership enables us to continue spreading the message of God's love and truth to people around the world. Together, we can make a difference and bring hope to others through the power of daily devotion. Thank you for your support.
Yours In Prophecy, 
Prophet Climate
Join the WhatsApp group and receive powerful daily devotions from Master Prophet Climate. Experience spiritual growth, inspiration, and blessings as you dive into the depths of God's Word. Don't miss out on this opportunity! Click to join and embark on a transformative journey of faith.
Please Click To Receive This Daily Devotion on Your WhatsApp On Your Phone Daily