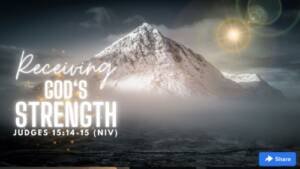 Good Day Child of God,
Today's Devotion and Reflection is based on the Scripture: Judges 15:14-15 (NIV)
"As he approached Lehi, the Philistines came toward him shouting. The Spirit of the Lord came powerfully upon him. The ropes on his arms became like charred flax, and the bindings dropped from his hands."
Moral Story: 
Samson's experience with the Philistines highlights the importance of relying on God's strength rather than our own. His supernatural deliverance demonstrates the power of the Spirit of the Lord. This story teaches us that God's strength is greater than any challenge we may face.
Short Prayer: Dear Lord, help us to rely on Your strength in every situation. May we surrender our weaknesses to Your power and trust in the Spirit's guidance. Strengthen us to overcome challenges through You. In Jesus' name, amen.
Affirmation: Today, I choose to embrace God's strength over my own. I will rely on the guidance of His Spirit and trust that His power is sufficient for any challenge.
Word of Prophecy: I prophesy that as you surrender your weaknesses to God's strength, His power will be made perfect in you. The challenges you face will be overcome by His guidance and supernatural empowerment.
Reflection: Reflect on areas where you may have relied on your own strength instead of God's. Are there challenges that seem insurmountable? Surrender them to God's power and trust in His ability to provide the strength you need.
May this devotion inspire you to rely on God's strength, trusting in His Spirit's guidance to overcome challenges in your life.
Yours In Prophecy, 
Prophet Climate
Join the WhatsApp group and receive powerful daily devotions from Master Prophet Climate. Experience spiritual growth, inspiration, and blessings as you dive into the depths of God's Word. Don't miss out on this opportunity! Click to join and embark on a transformative journey of faith.
Please Click To Receive This Daily Devotion on Your WhatsApp On Your Phone Daily