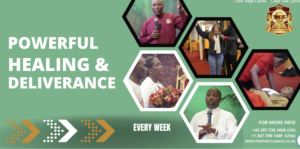 "A TESTIMONY OF FAVOUR AND RESTORATION: GOD'S MIRACLES AT THE KINGDOM CHURCH LONDON"
I am overjoyed to share with you a powerful testimony of God's favour, breakthrough, and restoration in the life of one of our beloved members. It is a testimony that serves as a testament to the transformative power of prayer and the faithfulness of our God.
Meet Joy, a devoted member of our Kingdom Church family who recently experienced an extraordinary series of events that led to a complete turnaround in her life. Joy's journey serves as a reminder that when we surrender our challenges to God and seek His intervention, He works miracles beyond our imagination.
Joy's story begins with her arrival in the United Kingdom, filled with hopes and dreams for a better future. However, she faced a heartbreaking situation back home in Botswana—she did not have enough money to pay the rent for her property, resulting in her children being forced to sleep on the streets. It was a time of deep despair and anguish for Joy, as she longed to provide a safe and secure home for her children.
In her time of desperation, Joy turned to The Kingdom Church London and sought deliverance prayer from our anointed Prophet, Climate Wiseman. With fervent prayers and unwavering faith, Joy placed her trust in God, knowing that He was able to turn her situation around.
Miraculously, shortly after receiving deliverance prayer, a gentleman from Joy's past unexpectedly contacted her. He expressed an interest in selling a property and offered her an incredible opportunity. Despite Joy's financial constraints, the gentleman assured her that she could pay whatever she could afford towards the house until she was ready to complete the purchase.
Through this divine provision, Joy was able to secure a home for herself and her children. The restoration was not only physical but also brought a sense of peace and security back into their lives. Today, Joy rejoices knowing that her children are once again under the safe comfort of a home, and she is filled with gratitude for God's faithfulness.
She gives all honour and thanks to our Heavenly Father for His remarkable provision and restoration in her life. Joy also expresses deep gratitude to Prophet Climate Wiseman and The Kingdom Church London for their unwavering support, guidance, and powerful prayers that played a pivotal role in the restoration of her family.
As a church family, let us celebrate this testimony of God's favour and restoration. It serves as a reminder that our God is a God of miracles, capable of turning the darkest situations into glorious triumphs. May Joy's testimony inspire us all to trust in God's faithfulness and seek His intervention in our own challenges.
We serve a God who hears our prayers, sees our needs, and delights in turning our mourning into dancing. Let us continue to pray and support one another, knowing that the same God who restored Joy's life is faithful to do the same for each one of us.
To our amazing Prophet Climate Wiseman, we express our heartfelt gratitude for being a vessel of God's anointing and love. Your dedication to the ministry and unwavering faith have touched countless lives and brought about transformation and breakthrough.
Let us give all glory to God for His wonderful works at The Kingdom Church London!
*Note: The name "Joy" is a fictional name used to protect the privacy of the individual involved in this testimony.
Dear Child of God, I hope this email finds you in good health and high spirits. I am writing to invite you to our life-changing Healing and Deliverance Service this Friday at The Kingdom Church London so you can experience the same healing and restoring power you just read about above. 
During this powerful service, you will experience the anointing and transformative power of God. Whether you are seeking physical healing, emotional restoration, or deliverance from spiritual bondage, this online gathering is an opportunity for you to encounter God's healing touch.
Here's What You Can Expect From Our Online Healing and Deliverance Service:
Dynamic Worship: Our anointed worship team will lead us into a powerful atmosphere of praise and worship, creating a sacred space for the Holy Spirit to move mightily in our midst. Prepare your heart to enter into a place of intimate connection with God.
Inspiring Teaching: Prophet Climate will share inspiring messages rooted in the Word of God, bringing you encouragement, biblical insights, and practical wisdom for your healing and deliverance journey. You will receive empowering guidance that can be applied to your everyday life.
Prayer for Healing and Deliverance: Our dedicated prayer team will be available during the service to intercede on your behalf. Whether you are facing physical ailments, emotional wounds, or spiritual battles, they will stand with you in faith, believing for God's supernatural intervention and breakthrough. All you need to do is call our 24/7 Prayer Line on the numbers below.
Testimonies of Miracles: You will be uplifted and encouraged by powerful testimonies of lives transformed through the healing and delivering power of God. These testimonies serve as a reminder that God is still performing miracles today and that breakthrough is possible for you too.
To Join Our Online Healing and Deliverance Service, Simply Follow The Steps Below:
1. Using the prayer agreement form below, this is your opportunity to submit your prayer request so that Prophet Climate and his team can come in agreement with you. Write down the areas you are believing God for healing and deliverance. 
2. Accompany your prayer request with your special donation or offering. Remember sowing your seed opens the door for God's blessings to flow into your life. The Bible assures us that when we give with a cheerful heart, God will pour out His favour, provision, and breakthrough upon us. Just as a farmer sows seeds with the expectation of a bountiful harvest, sowing your seed into God's kingdom positions you for a spiritual harvest. It may come in various forms, such as increased faith, answered prayers, restored relationships, financial blessings, or personal growth. As you sow your seed for this Friday, expect God to to restore you, to do above and beyond what you could think, ask or imagine. 
3. Please feel free to invite your friends, family, and loved ones to join us as well. Share this invitation with those who are in need of healing, restoration, and deliverance. Together, let's come expectant, knowing that our God is faithful to touch, heal, and set us free.
4. Join Us In Person This Friday at 7PM UK Time at church at 93 Camberwell Station Road, London, SE5 9JJ. 
We believe that distance is not a barrier for God's healing and delivering power. Join us online for this impactful Healing and Deliverance Service and position yourself to receive a touch from the Almighty.
We look forward to having you join us as we experience the miraculous healing and deliverance power of our Lord Jesus Christ. May your life be forever transformed by His love and power!
15 POWERFUL PRAYER POINTS FOR GOD'S DIVINE RESTORATION IN YOUR LIFE
Heavenly Father, I come before You with a heart longing for divine restoration in every area of my life. I surrender all my brokenness and disappointments to You.

Lord, I pray for restoration of my spiritual life. Renew my passion for Your Word, ignite the fire of prayer within me, and restore my intimacy with You.

Father, restore my physical health. Touch every part of my body that needs healing, remove sickness and disease, and restore me to complete well-being.

I pray for restoration in my relationships. Mend broken relationships, heal wounds, and bring reconciliation where there is division or strife.

Lord, restore my emotional well-being. Heal the wounds of past hurts, disappointments, and traumas. Pour Your peace and joy into my heart.

Father, restore my financial situation. Open doors of provision, remove any debts or financial burdens, and bless me abundantly in my finances.

I pray for restoration in my career or business. Guide my steps, open doors of opportunities, and grant me success in all my endeavours.

Lord, restore my dreams and visions. Revive the dreams You have placed within me, and empower me to walk boldly in the purposes You have for my life.

Father, restore my lost time and wasted years. Redeem the time that was stolen or misused, and grant me divine acceleration and restoration of lost opportunities.

I pray for restoration of my family. Heal broken family relationships, bring prodigal loved ones back to You, and restore unity and love in our homes.

Lord, restore my joy. Remove any heaviness or depression from my heart and replace it with the joy of Your salvation.

Father, restore my faith. Strengthen my faith in times of doubt and confusion. Renew my trust in Your promises and help me to walk in unwavering faith.

I pray for restoration in my purpose and calling. Illuminate Your divine plan for my life and guide me in fulfilling the destiny You have ordained for me.

Lord, restore my spiritual gifts and talents. Awaken dormant gifts within me and use them for Your glory and the advancement of Your kingdom.

Father, I pray for restoration in my spiritual authority. Grant me the power and authority to overcome every spiritual attack and walk in victory.
Heavenly Father, I thank You for hearing and answering these prayers for divine restoration. I trust in Your faithfulness and look forward to the manifestation of Your restoration in my life. In Jesus' name, I pray. Amen.
REMEMBER THAT OUR PRAYER WARRIORS AND I WILL BE PRAYING FOR YOU RIGHT NOW.  SEE YOU SOON!
MEGA TKC Miracles House,
93 Camberwell Station 
Road Se5 9JJ 
Tel: +44 207 738 3668/3476
Yours In Prophecy 
Prophet Climate