Midnight Church Online
Sep 12, 2025 @ 12:00 am

-

1:30 am

|

Recurring Event

(See all)

An event every day that begins at 12:00 am, repeating indefinitely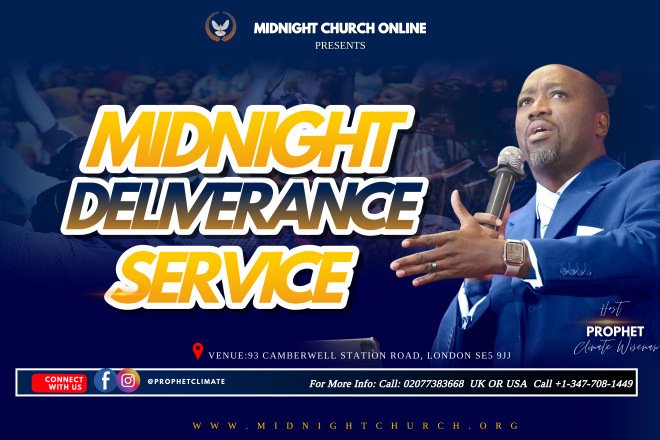 Dear Child of God,
Powerful Things Are Happening At Our Midnight Church. Just Read Some Of The Recent Testimones From Our Members
God of Vengeance Fights Her Battles
Man of God thank you for the powerful midnight prayer. Since I started the midnight I am a lot calmer and at peace. I am not panicking and God has been dealing on my behalf with my ex- husband. My ex-husband who was torturing me lost his job as the head football coach and he didn't see it coming. A tornado came through his town and a tree landed on his house. Since the fire service, he has been punished by God on my behalf. Thank you for being a vessel for God. Before I was sad and tormented, but my life has been much better with blessings. Prophetess Zoey has prayed for me along the way. God bless your ministry! Thank you. – Dr. Natalie Myricks from USA
Everything Has Begun To Turn Around For Her
Dear Prophetess. My testimonial is "I used to go to a church about 6 years ago. In my 1st visit one  pastor said to the new people like me, "Don't leave, stay for 3 MONTHS to see a change in your life". Well I have been connected to The Kingdom Church since Christmas week.. and I have seen favour, delivance, healing, business turnaround, sound sleep, enemies defeated. I give God the glory. God bless you and the Man of God… for ever. Amen. I've not even been connected to your church for 2 full months yet.
Painful Legs Healed At Midnight
Morning Bishop. Ever since I joined this midnight prayers I am healed of stiffness in my legs which was happening every night. It was alot of pain, but during one of the midnight prayers all the pain left and has not returned! I have peace now in the name of Jesus.  – Irene 
After 4 Years Of Stagnation, She Begins To Make Progress
Good evening my prophet, I have a testimony. After 2 weeks of joining midnight prayers, major breakthroughs have happened. I have a plot at a market for a construction of a shop. The project was stalled for four years but in just five days I have made tremendous progress and almost all major constructions are done with the blessing of finances from allowances which I never anticipated from my place of work. Secondly I lost my husband and I have been taking care of his niece for the past five years. His family decided to pick her after they grabbed my matrimonial home. Now that I am settled at my newly constructed home they have been raising altars to attack me but my mother inlaw died mysteriously and because of my connection to The Kingdom Church none of their schemes have worked. Now they are accusing me that I use juju because they can't understand the grace upon my life but praise be to God almighty and the powerful grace upon your life my prophet. 
HAVE YOU JOINED OUR MIDNIGHT CHURCH YET?
The Prophet of God Master Prophet Climate has been holding daily Midnight Deliverance Services LIVE Online, and they have been so powerful. Many more testimonies are taking place as people are receiving LIVE prophecy and deliverance prayers.
Tonight I want to invite you to join for special prayers and prophetic deliverance.  
Just Click This Link To join our Midnight Church Whatsaap Group directly
You can also register for our Midnight Church at 
If you don't have Whatsaap on your phone we recommend you to install this FREE APP so you can connect with us easily. Just click here for Iphone or here for Android 
Remember as you tune in to the program LIVE, please leave your comment with where you are from, The Prophet may speak a word of prophecy to you directly through the Youtube. 
If you have a testimony to share or want to speak to the Prophet, join our Zoom Link at 12AM UK Time (All the links are available on the Whatsaap Group above … That is the best way to stay connected)
https://us02web.zoom.us/j/83737476713pwd=Q0JqVlVwamozdXM3ZzRtRjBTZXpvZz09
As you join and connect, you are about to enter your season of breakthrough! Powerful Deliverance is about to take place! Just click the link above to join and you will be able to connect to our Midnight Deliverance Service!
What Is The Midnight Church, Why Are We Praying At Midnight?  
There are things that happen only at midnight. 
At midnight God delivered the children of Israel from hundreds of years of slavery…
At midnight God transferred the wealth of the wicked into their hands …
At midnight Samson carried the gates of his enemies …
It was at midnight that Ruth met her soulmate Boaz …
It was at midnight when God shook the foundations of the prison where Paul & Silas were set free …
Now it's your turn! 
As you begin to pray with the Prophet at midnight, whatever has been holding you for years must let you go. There must be deliverance; you shall be set free! 
I want you to know that the Prophet of God will be live every night at Midnight (12AM UK Time). This is your chance to connect and receive powerful prayer and prophecy so that your life can be directed in the right way. 
Just Click This Link To join our Midnight Church Whatsaap Group directly
WE ARE LIVE EVERY NIGHT AT 12AM UK TIME
Related Events