Dear Child of God,
Tonight is the begining of many days of great deliverance. Tonight God is about to manifest himself greatly in London and the best thing is that you are going to be  a part of it . All what you need is to connect in person or by whatsoever way you can.
Tonight we will begin by powerful Praise and worship then followed by special teaching by myself the prophet, Tonight I will teaching something very important about demonology. Then Followed by powerful prayer where I will be Praying for each one of you that will attend
Luke 4:40-41 KJV
Now when the sun was setting, all they that had any sick with divers diseases brought them unto him; and he laid his hands on every one of them, and healed them.  And devils also came out of many, crying out, and saying, Thou art Christ the Son of God. And he rebuking them suffered them not to speak: for they knew that he was Christ.
I Expect Powerful Deliverance And Great Testimony ……. Please I want you to go through the following Testimonies That have taken place in Bishop Climate Ministries To Strengthen Your Faith.
Are you experiencing a deep-seated problem that won't seem to go away, despite all your best efforts? Has all your prayers seem to have been in vain? Does your situation seem hopeless and you don't know how things will ever change? Child of God, I want you to know that there is always hope. Right now at The Kingdom Church, God's power is moving mightly and one after another, people are being healed and delivered and set free from all types of problems, through the prayers of the Master Prophet. Just check out a few recent testimonies below.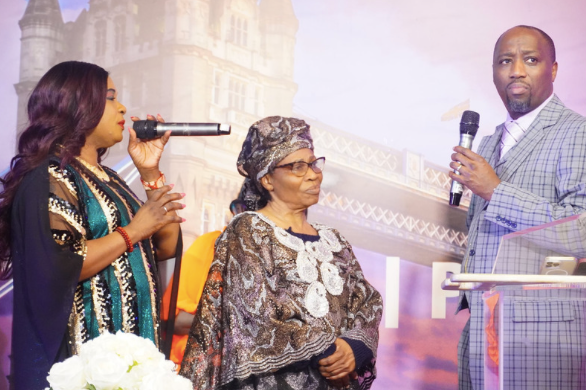 Her Doctors Were In Shock At What They Saw!
This woman got into an accident and broke her leg in five different places. As a result, they had to operate and put metal plates in her foot. Because of that she was experiencing a lot of pain and was using crutches to walk. She spoke to the Prophet of God and he instructed her to use the deliverance prayer books to pray. As she began to pray, the pain begin to subside. But by the time she went back to the doctor for an x-ray, they were in shock. They could not find any metal in her foot! God completely restored her. All the pain is gone, she no longer uses crutches but loves to dance and praise God during the worship services at church.The Lord has revealed to me that anyone who has set themselves against you in order to bring you down, whosoever has been chasing your glory, tonight they will find themselves fighting against God. Tonight they must die by fire!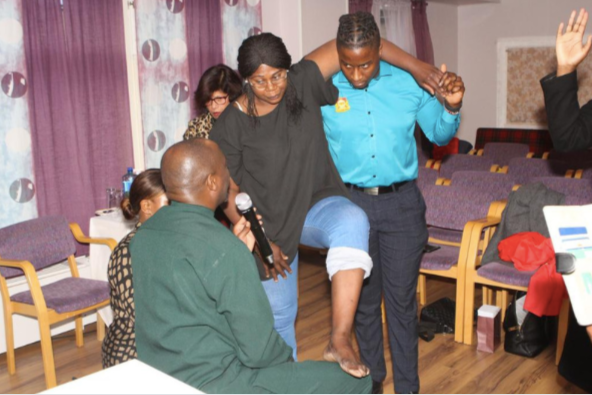 She Required 45 Injections In Her Feet Every 3 Months … Until The Prophet Prayed For Her!
This woman had been experiencing chronic pain in her left foot and as a result had already had over 45 injections in her foot to try and keep the pain away but nothing worked. The man of God revealed that the issue was actually not her left foot but her right foot, and that is why no matter what they tried, nothing would work. He anointed both her feet and command her to walk around the sanctuary. Now she has testified that for the first time in years, all the pain is gone. Thank God!
The Prophet Said By 6PM She Would Recover …
Two weeks ago this woman experienced a stroke at home. She called her daughter but she was not able to talk. The daughter heard her mother babbling on the phone and called the ambulance. As soon as she got to the hospital, the Prophet of God was called and went to see her. The very first thing that happened was a miracle.
"Her Blood Pressure Dropped From 170 to 119 Right Before Their Eyes"
Her blood pressure was 170 but as soon as the Man of God prayed for her, it dropped instantly before their eyes to 119. The doctors told the family that they were running tests to find out the extent of the brain damage and there was no way to tell how bad it was until the results come back. She was trying to communicate but all you could hear was slurs and babbling. The Man of God prayed and told her and her family that by 6pm that day she would recover and begin to talk again. It didn't even take that long! By 4:30pm she regained her speech and was well in herself. The doctors were happy to release her the same day!
Child Of God, it might not be a health issue you are facing, but a financial issue, a legal issue, a family issue, etc. Whatever it is that you are facing, I want you to come tomorrow tonight ready to receive from God. 
At sunset, all who were ill with various diseases were brought to Jesus, and laying Hishands on each one, He healed them. Demons also came out of many people, shouting, "You are the Son of God!" (Luke 4:40-41)
Tonight, the power of God is going to touch your situation. And don't think because you are far away that you can't receive the same power. There is no distance in prayer. Read this testimony from one of our members whose family members in the Caribbean received a breakthrough. 
There Is No Distance In Prayer … Her Aunty In Grenada Woke Up From A Coma!
Many people take years to recover, but with the anointing at The Kingdom Church it can be instant! This woman received news that her aunt back home in Grenada suffered a stroke and was in a coma in the hospital. But this woman refused to accept that her aunt will suffer this way; she raised her up so she was very precious to her. She sent a text to Master Prophet Climate and he simply laid his hands on the photo and prayed for her; letting her know that it was well. And she believed it was. Three days later, she received a call from her family that her aunt had woken up out of the coma. Now she has made a complete recovery and returned to work!
Now Here's What I Need You To Do:
1. If you live locally in London or nearby, please come in person. Otherwise, using the link below, please send me your prayer request. I want you to write all the things/areas of your life where you need deliverance. My team will print it off and I will be praying for you this evening for the power of God to touch you where you are.
2. As you connect tonight by faith, sow your seed now as a thanksgiving for what God is about to do in your life. You could sow according to Matthew 18:19 for the prayer of agreement, or any amount as the Holy Spirit leads you. 
3. Remember to join me in person or LIVE this Friday from 7PM UK Time. You can watch us live via Youtube, Facebook our on our BCM Ministry App. 
SUBMIT YOUR PRAYER AGREEMENT FORM  
CALL US 24/7 +44 207 738 3668 (UK) +1 347 708 1449 (USA)
Remember you can give with your card through the phone it's quicker and safer; the prayer warriors can assist you to write down your prayer request. Or you can ask them to write the prayer of agreement form on your behalf; just call any of the numbers on the Prayer Agreement Form. 
You can also bring it and put it in my hand for the sake of a special anointing. I would love to pray with you personally and release the power of God in your life. If you would like to see me personally please call our office appointment. But if you need a quick prayer then just pop in anytime, we are here to serve you. Every Sunday Morning at 9am – No Appointment needed.
You can also sow straight into the Ministries account through online banking or by visiting your nearest LLOYDS BANK
ACCOUNT NAME: Bishop Climate Ministries
BANK : LLOYDS BANK 
SORT CODE: 30-91-91
 ACCOUNT: 32472768
IBAN: GB24LOYD30919132472768
BIC: LOYDGB21456
OR YOU CAN SEND THROUGH MONEY GRAM TO:
Climate Wiseman, 93 Camberwell Station Road, London, SE5 9JJ, UK
Connect With Me Live 
REMEMBER THAT OUR PRAYER WARRIORS AND I WILL BE PRAYING FOR YOU RIGHT NOW. 
Yours In Prophecy 
Prophet Climate